---
Caraway seed has long been used, whole or ground, in northern European and other world cuisines. In the text book
Handbook of Spices, Seasonings, and Flavorings
, the author reports that the use of caraway goes back at least 5,000 years to Mesopotamia. The name caraway comes from the Arabic karawya. Asian cultures refer to it as "foreign cumin" because of its resemblance in appearance and flavor to cumin. In ancient Roman, cooks seasoned sausages with caraway seeds. Hungarians flavored their famous goulash with caraway. These days, most of us associate caraway with popular German and Austrian rye bread recipes.
This fragrant ingredient contains oil with strong anti-fungal and anti-yeast properties. Simmered with milk and honey, caraway as been used as a remedy for colic. A tea made from caraway seed has been used as a remedy for loss of appetite and digestive disorders. It has also been used to treat gallbladder spasms and menstrual cramps. In addition, caraway seed is used as a ingredient in body care products and cosmetics. Caraway seed can also be employed in tinctures, infusions, and encapsulations .
Caraway Seeds, Bloating, and Dr. Oz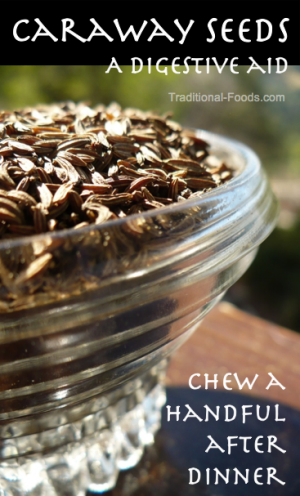 Thanks to a recent article by Dr. Oz, Americans are learning something that Germans have known for some time: chewing caraway seeds after a meal improves your digestion and it may also decrease the bloating you may experience. Oz recommends "a handful" of seeds after a meal. I recommend buying a pound to have them on hand and to try them out. A pound will probably last a few months since most of us will not end up eating a handful after every meal. Follow the link below for a pound of caraway seeds or read our buying guide in more detail.
Caraway Seeds in Cooking
Caraway is a common ingredient traditionally in the bread, cheese, and soup of the German peasantry because of its distinct flavor. Traditionally, it was mixed with ginger and salt and added to butter to flavor the butter. It is also used in a liquor common in both Germany and Russia, "Kummel," flavored by caraway.
You can use caraway seed in your own kitchen as well many different ways:
Add caraway seed to sauerkraut, giving the fermented cabbage that distinct caraway flavor.
Cook traditional rye bread recipes calling for caraway seeds. Rye flour is healthy and distinct in itself.
Add caraway seeds to scones, muffins, dumplings, and other appropriate baked goods. (Add when you would add the dry ingredients.)
Top your toast with olive oil and caraway seed to shake up your toast.
Use caraway seed in a carrot salad or coleslaw to bring new life to these family favorites.
Make a caraway seed tea to improve your digestion.
Use caraway in your greens dishes: Lightly saute your greens in the oil of your choice along with a dash of caraway
However, there can be too much of a good thing. Some people experience narcotic effects from chewing too much caraway. Over the centuries, people have brewed it or turned it into poultices to ease colic in babies or to wrap around a sprained joint. It can be an effective remedy, but listen to your own body and do not over-use caraway.
Caraway Seed Substitutions in Cooking
If you are in a jam, without caraway seeds, and your recipe calls for them, you may consider substituting cumin seed for caraway seed. As noted above, they have been confused in history as the same seed since they are similar in flavor.
If you would like a more mild flavor than the distinctive caraway, consider substituting poppy seed or sesame seed in your recipe.
Simple Caraway Seed Tea
As a digestion aid, you can chew caraway seed, but perhaps more satisfying would be a simple caraway seed tea. Bring to boil twelve ounces of water and pour over one tablespoon of caraway. Cover the cup and let it sit for about fifteen minutes. Strain the tea into a second cup to remove the seed, sweeten with honey, and enjoy. Explore combining complimentary flavors such as mint.
Buy Caraway Seed in Bulk for Best Price
We save money by
buying caraway seed in bulk
. In fact, we buy enough caraway seed and other herbs and spices we use regularly so that we have about a year's supply. A year is a good balance between freshness and the cost-savings of buying in bulk.
We know a great vendor that sells certified organic caraway seed in bulk at very low prices. You can buy it in 4 oz., 8 oz., and 1 lb. sizes. If you buy more than five pounds, you will receive even greater discounts. (
Click here for the best deal
, note the 60-day return guarantee and purchase options via the Internet, phone, mail, or fax.)
Storing Caraway Seeds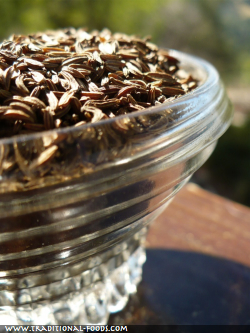 Buying fresh caraway seeds and then maintaining that freshness through proper storage will make a big difference in the flavor of your food. Ideally, you will buy caraway seed that will last you about six months (optimally) and up to a year. Store your bulk caraway seeds in a cool place with a tight-fitting lid. A cool and dark pantry is a good bet. Keep a small portion of caraway seed in a small jar in your kitchen for easy access. Refill the jar as necessary from your longer-term storage stash of caraway seed.
Consider Buying A Caraway Seed Extract Or Oil
Caraway oil is extracted from the caraway seed usually by a process whereby the seed is crushed and then the oil is extracted either by cold pressing or through some sort of distillation process.
In cases such as caraway seed oil, the final extracted oil may be 75 to 100 times more potent than the caraway seed itself. Extracting caraway seed oil, therefore, can be a powerful tool in allowing consumers access essentially to bulk quantities of caraway seed without actually having to eat the seeds themselves. For example,
this product
is made from prized black cumin seed.
Planting Caraway Seeds
Caraway is a biennial plant, in some cases it is an annual plant, grown chiefly for its seeds and used in cooking. The root is sometimes eaten, and sometimes the leaves and stems are eaten.
If you are planting and harvesting your own caraway seeds, sow your caraway when the frost is passed and in any good soil, sow the seed a foot apart and 1 inch deep. Thin the seeds to 9 inches apart when they have grown up well. Protect the seedlings in the North and in colder climates. The plants will bear seed in the second summer. Gather when they are mature. Or sow seeds as soon as ripe, protect over winter, and gather early the next summer. To harvest them, you may pick the stems of the plant and lay them on a tray in a warm and dry room. As they dry, you can shake the stems gently and the seeds will fall out.
If instead you are purchasing your caraway seeds, we recommend buying them on the Internet for the best value. You can purchase caraway seed in bulk and use your own clean, dry jar to store them. Make sure you have a lid that fits securely. You will find vendors who offer extremely good bulk prices for caraway seed, some targeted toward large users of caraway seed (such as a baking supply) and other vendors focused on home needs. If you shop every six months to one year, you can buy caraway seed and any other herb or spice you might be low in and, thereby, you will keep a steady supply of herbs all year round.
Caraway Seed Nutrients
Caraway seed is a fairly mineral-rich spice. In the graph at right we display the mineral content in 10 grams of caraway seed, about 1 1/2 tablespoons. That large serving of caraway seed supplies 9% of the daily value of iron (based on a 2,000 calorie diet), 7% of calcium, and 6% of magnesium.
Caraway seed also contains phosphorous, manganese, and copper according to data provided by the
USDA
.
Most people do not consume seasonings and spices such as caraway seed in such large portions but seeds and spices can chip away at nutritional needs as we add them to our foods.
The same 10 grams of caraway seed has small portions of B vitamins and other vitamins, but not enough to center a diet around.
Macronutrients In Caraway Seeds
Component

Amount

% Daily Value*

Calories

333

Protein

19.77 g

40%

Fat

14.59 g

22%

Carbohydrate

49.9 g

17%

Fiber

38 g

152%

Potassium

1351 mg

39%

Sodium

17 mg

1%

Sugar

.64 g

Water

9.87 g

Ash

5.87
*The daily value is based on a 2,000 calorie per day diet.

Vitamins
| | | |
| --- | --- | --- |
| Vitamin | Amount | % Daily Value* |
| Vitamin C | 21 mg | 35% |
| Thiamin – B1 | .38 mg | 26% |
| Riboflavin – B2 | .38 mg | 22% |
| Niacin – B3 | 3.61 mg | 18% |
| Pantothenic Acid – B5 | . mg | .% |
| Vitamin B6 | .36 mg | 18% |
| Folic Acid | 0 mcg | |
| Food Folate | 10 mcg | |
| Choline | 24.7 mg | |
| Vitamin B12 | 0 mcg | 0% |
| Vitamin A – IU | 363 IU | 7% |
| Vitamin A – RAE | 18 RAE | |
| Retinol | 0 RE | |
| Alpha Carotene | 0 RE | |
| Beta Carotene | 189 mcg | |
| Beta Cryptoxanthin | 58 mg | |
| Vitamin E | 2.5 mg | 8% |
| Vitamin D – IU | 0 IU | 0% |
| Vitamin D – mcg | 0 mg | |
| Vitamin K | 0 mcg | 0% |
| Lycopene | 6 mcg | |
| Lutein and Zeaxanthin | 205 mcg | |
*The daily value is based on a 2,000 calorie per day diet.

Minerals
| | | |
| --- | --- | --- |
| Mineral | Amount | % Daily Value* |
| Calcium | 689 mg | 69% |
| Iron | 16.23 mg | 90% |
| Magnesium | 258 mg | 65% |
| Phosphorus | 568 mg | 57% |
| Zinc | 5.5 mg | 37% |
| Copper | .91 mg | 46% |
| Manganese | 1.3 mg | 65% |
| Selenium | 12.1 mg | 17% |
*The daily value is based on a 2,000 calorie per day diet.